Dr. Gianluca Golinelli carries out the profession of Computer Forensics, and Consultant on Computer Security. He graduated in Electronic Engineering at the University of Parma in 1997. He is a member of the Association of Engineers of the Province of Parma, where he has been chairing the IT, Electronics and Telecommunications Commission from 2001 to 2018. Since 2006 he has been a member of the Italian Engineering Committee. of Information (C3I), at the National Council of Engineers (CNI). Since 2003 he has been a Technical Consultant (CTU) of the Law Court of Parma in the field of IT and Electronic Systems. 
He is certified CEH (EC-Council Certified Ethical Hacker), CHFI (EC-Council Computer Hacking Forensic Investigator), CompTIA Security+, ISACA CSX-P (Cybersecurity Practitioner), CASE.NET (EC-Council Certified Application Security Engineer .NET).
In the field of Computer Forensics (Digital Forensics, Mobile Forensics, Computer Forensics, Network Forensics) he carries out activities as:
- CTU (Technical Consultant) for the Court of Parma
- CTP (Partisan Technical Consultant) throughout the national territory in civil litigation, in criminal matters and in ATP (Preventive Technical Inspections)
In the field of civil litigation, he carried out activities on:
- disputes on software and hardware supply contracts, and provision of IT services
- disputes due to unfair competition between companies
- litigations for violation of the rules on the processing of personal data within the company
- disputes over software marketing and distribution contracts
- litigations for infringement of copyright, intellectual property and industrial law
Professional activities related to Computer Security

The varied knowledge of technology has led him since 2003 to deal with computer security, carrying out consultancy activities of:
- Vulnerability Assessment
- Penetration Testing
- IT Security Auditing
- Training and advice on the configuration of security devices (Firewall and IDS)
- Development of tools for computer security (including NetScan for Windows Phone)
He regularly holds training courses and seminars for companies and institutions throughout the country, he writes in various computer science magazines in the field of computer security and digital forensics.
Eng. Gianluca Golinelli is a member of: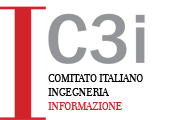 He is a member of the Association of Engineers of Parma, where he chairs the IT, Electronics and Telecommunications Commission

He is a CTU at the Court of Parma


TRIBUNALE DI PARMA
Follow me on: